Lighthouses of Norway
Edition: Lindesnes Lighthouse




︎ ISTD Brief 1, Lighthouses Around the World, 2021/22


The Lighthouses of Norway publication responds to the ISTD brief - Lighthouses of the World 2022. Initially, I knew that I wanted to base my project around the lighthouses in Norway, as the Norwegians have a deep history of fishing and naval expeditions. Although coastal knowledge was passed down through the family, it was not enough for the international sea navigators. They found the Skagerrak straight, a dangerous but necessary passage for their vessels. Thus the need to establish a safer route and guidance became imperative. Lindesnes was the first lighthouse to be erected to fulfil this need.

Lindesnes Lighthouse greets appropriately 100 000 visitors a year, both as admirers of the nautical institution and to visit the adjacent museum, galleries and events hosted at the lighthouse. The project goal is to create a bridge between the visitors, museum and lighthouse as a publication that can communicate with international visitors and provide a written context of the lighthouse.



Throughout the publication, I have attempted to recreate the stoic power and might of the lighthouse. The columns are wide and tall, unmoving and anchored to the page. Light characteristics are reflected in the chapter subheads, a steady even height with slight alternations, as one would find when discerning different lighthouses from each other by the flash of their lights. There are explicit descriptors off the page to inform quickly of the content. The pages and paper are robust and easy to turn. Thin and delicate paper would only get torn and be difficult for hardened weathered hands to use; an attempt to think about the lighthouse keepers hard work and dedication to their practice.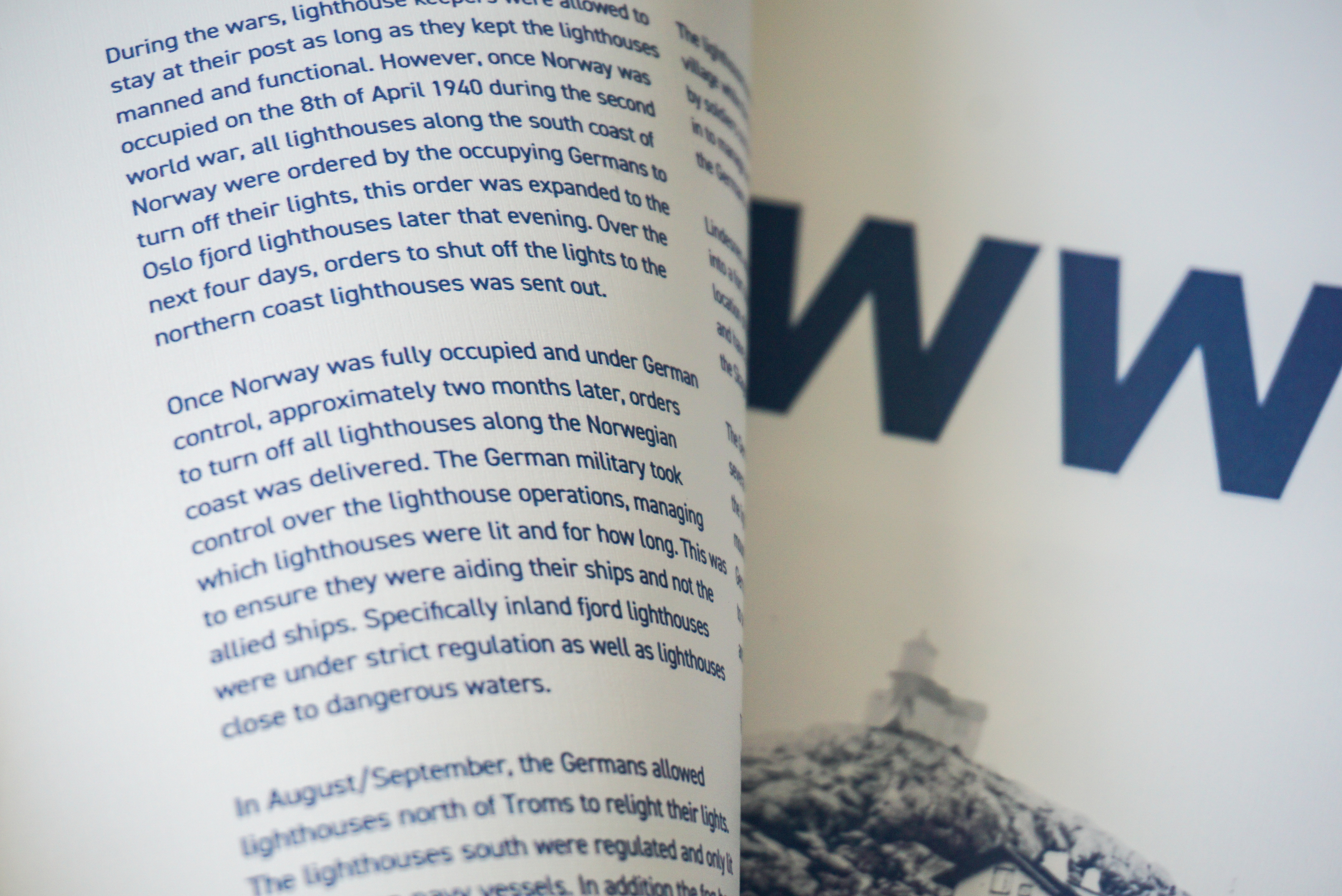 The Lighthouses of Norway publication responds to the ISTD brief - Lighthouses of the World 2022. Norways oldest lighthouse station where the first lighthouse was created in the 1600s and has since stood fast through war and tragedy, providing safe passage to sea faring vessels.